Water Damage and Mold Removal in Newaygo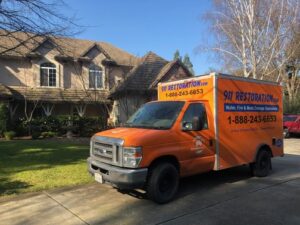 The name Newaygo is an Algonquian word that means "much water", referring to the Muskegon River that flows through this quiet city located near the Big Rapids and Fremont region. 
Our restoration team is also familiar with a lot of water, whether it's from heavy spring rains, overflowing faucets, or burst pipes. 911 Restoration in Big Rapids/Fremont answers your emergency calls 24/7/365. We promise to arrive at your property within 45 minutes, ready to resolve water, mold, sewage, or fire and smoke damage. 
Nationwide Water Damage Restoration Franchise Company – We Have You Covered!
Backed by a nationwide restoration leader with more than 35 years of experience, 911 Restoration Big Rapids/Fremont is a locally owned and operated business. We hire and train our technicians according to the highest standards of cleaning and restoration. Our IICRC-certified staff restores your home or business with our signature Fresh Start service. By the time our distinctive company trucks roll away, you are 100 percent satisfied that your property looks, smells, and feels fresh and clean. 
At 911 Restoration of Big Rapids, we offer a Fresh Start with our comprehensive selection of property damage restoration services, including but not limited to:
Dealing with insurance companies during a property emergency is another layer of stress that you don't need. We work with all insurance carriers, provide free insurance consultations, and bill your carrier directly. When you call 911 Restoration Big Rapids/Fremont, you receive top-notch restoration delivered by caring, compassionate service. 
What Should You Do When You See Water Damage?
Water spreads quickly throughout your property. If you can, our water damage experts recommend that you locate the main water cutoff on your property. Cutting off the flow of water helps prevent further seepage into your carpet, walls, insulation, and furniture. 
After you turn off the water, pick up your phone and call our licensed, bonded, and insured water damage, restoration experts. We get there fast and perform a free visual inspection for property owners only. We explain your rights as a property owner and customer and then begin to transform a water-soaked property into a beautifully restored home or business. 
Once our technicians arrive, they'll set up dryers and dehumidifiers to remove liquid and moisture. Our team tests the structural integrity of your property to ensure that water has not damaged key support beams and materials. We repair or replace accordingly to make sure your property meets the standards of your insurance carrier and local ordinances. 
Call 911 Restoration Big Rapids/Fremont today for same-day service near you. 
Call the Fresh Start Company 
What is our Fresh Start? It is your assurance that our team does everything possible to restore and rejuvenate your home while keeping you and your family safe and comfortable. Our Fresh Start ensures that the only reminder of a flood, pipe burst, fire, or mold are distant memories. 911 Restoration Big Rapids/Fremont offers complete residential and commercial property restoration. We are highly trained and experienced professionals who treat each customer with respect and compassion. 
Let us handle all your water damage, mold removal, sewage cleanup, and fire damage restoration needs. 
911 Restoration of Big Rapids/Fremont is located at 14585 220th Ave, Big Rapids, MI 49307. We're available 24/7 – call us at (231) 259-4111.
Serving the communities of Howard City, Newaygo, Fremont, Big Rapids, and surrounding areas.