Water Damage Restoration in Big Rapids, MI
911 Restoration of Big Rapids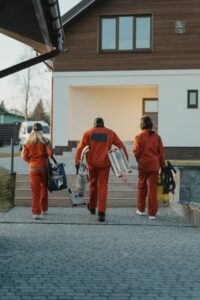 Owning property in Big Rapids comes with an abundance of responsibilities when it comes to maintenance. And sometimes unexpected emergencies that damage your property occur out of the blue. Unfortunately, while emergencies are unavoidable – 911 Restoration of Big Rapids/Fremont has your back 24/7/365 days a year.
You've worked hard to earn your property or run a business in Big Rapids. So we'll help you restore your property back to new with a Fresh Start.
At 911 Restoration of Big Rapids, we offer a Fresh Start with our comprehensive selection of property damage restoration services, including but not limited to:
Whether you're a Big Rapids homeowner or business owner, 911 Restoration of Big Rapids is your Fresh Start! We'll communicate with you throughout the entire process, help answer questions related to insurance, and restore your property to its pre-damaged condition. One of our IICRC-certified teams is dispatched within 45 minutes of your call! Contact us today, and one of our friendly representatives will assist you in finding the nearest Big Rapids location.
So there's no need to feel overwhelmed about your property damages. Our friendly staff has seen thousands of customers in the same boat as you. And every single customer they've worked with had their unfortunate situation turned the other way around.
We pride ourselves on top-notch customer service, reliability, and fast turn-around time.
So if you're a property owner in Big Rapids, Fremont, Muskegon, or surrounding areas – we have your Fresh Start!
Service area map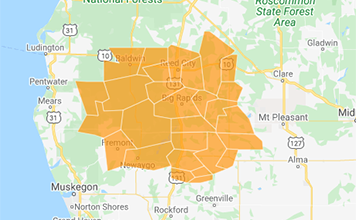 Sewage Cleanup & Water Damage Restoration in Big Rapids
The wet and cold seasons in Big Rapids present opportunities for water damage to attack their victims. Whether it be frozen burst pipes, flooding in the basement, sewage overflow, or leaking ceilings – time is your best friend. We'll be at your doorstep within 45 minutes of your initial call.
We understand the harsh impact water damage has on properties. It finds its way into the tightest cracks and ruins everything in sight. Mold growth, rust, erosion, leaking pipes, to sewage overfill are some of the few troubles water damage presents.
Once our water damage experts arrive on your property – they will ensure all sources of the problem will be stopped. Then a front-to-back inspection will take place to make sure all damages are assessed. They'll thoroughly go over a full report with you so you have a clear understanding of damages and coverage options.
By the end of the restoration process – you'll walk into a new property fresh as new.
There's no need to drown in the overwhelming feeling of water damage. Our water restoration experts are experienced in handling such protocols to rebuild your property with a Fresh Start.
Mold Remediation and Inspection in Big Rapids, MI
Dealing with the growth of mold on walls after water damage can be a tricky one for property owners in Big Rapids. Especially during the wet seasons – mold infestation is common in moist and dark environments where they mass produce. This is why we advise critical attention to emergencies like water damage. Because new problems like mold growth can spur below the surface.
Unfortunately, many homeowners have mold infestation inside their properties without knowing it.  Sometimes this happens because mold can be hard to spot as they hide in places you can't see.
The fungi release invisible spores into the air that can cause serious health issues. Some health problems include asthma, wheezing, lung infection, headaches, to death in a few severe cases
It's not safe to assume you don't or do have mold inside of the house. And it's not safe to try to remediate mold growth on your property with your own cleaning chemicals. You may just be creating a bigger problem such as missing spots or improperly removing the mold.
We advise you to consult with a mold expert in Fremont who can assist you and tackle your mold growth problems. Our mold removal specialists at 911 Restoration of Big Rapids/Fremont have years of experience to tackle stubborn mold growth.
So if you're unsure about mold growth on your property in Big Rapids- give our friendly staff a call. They will be able to assist you every step of the way to ensure you live in a safe space.
Commercial Property Restoration in Big Rapids, MI
Owning a commercial property in Big Rapids comes with the big task of maintaining the health of your assets. That means staying on top of maintenance schedules and yearly checkups to make sure property conditions are in-check. But you'd likely go crazy if you were handling all maintenance schedules on your own with the number of check-ups.
911 Restoration of Big Rapids/Fremont is there to lend you that extra hand when your property fails you. And it doesn't help the fact emergencies occur when you least expect them to happen.
While disasters are unforgiving – you can rely on us to get your commercial property in Big Rapids back in top shape.
Each property and disaster situation is different. That means we take care of our customer's emergency needs on a whole level with the utmost care. Talk about a Fresh Start with a personalized experience!
You'll be soon on your way to a property the way it originally was before.
Full-Service Water Damage Restoration Company Serving Big Rapids, MI
We're not only a restoration company that cares to restore damaged properties back to a fresh state. But we care about the people who live and work in those properties. That means we put you and your property first with a Fresh Start.
With our Fresh Start guarantee – expect to have nothing but the best service.
Every staff member who works on your property is IICRC-certified
Our professional restoration technicians are trained to the highest standards
We'll be at your property within 45 minutes of your initial call
All feelings aside – your property restoration process will be worry-free
Customers are treated like family because we truly care
Going through a disaster at your property in Big Rapids doesn't have to be a frustrating time. We have your back from day one until you get back on your feet running. And we'll be with you every step of the way. We mean it and stand by our promise.
We're always ready to tackle your property damage restoration needs. You'll soon be on your way to the Fresh Start you've been looking for!
911 Restoration of Big Rapids/Fremont is located at 14585 220th Ave, Big Rapids, MI 49307. We're available 24/7 – call us at (231) 259-4111.
Serving the communities of Howard City, Newaygo, Fremont, Big Rapids, and surrounding areas.