Sewage Backup and Cleanup in Big Rapids/Fremont
Imagine coming home to your property and seeing sewage water drowning your yard with gallons by the second. You see black water staining your white walls and there are no signs of the gushing water stopping anytime soon. It's every property owner's worst nightmare.
Raw sewage spill cleanup is one of the most unappealing disasters one can deal with as a property owner. The disgusting odor that reeks being something you've never imagined in your life. Flooding and leaking pipes are one thing. But sewage overflow is a headache that presents other cans of worms that pose a threat to your health.
Who knows what exactly is in sewage water? But it is certain sewage water consists of toxic, harmful, and filthy pathogens not suitable for human exposure.
The longer sewage water sits still on a property – the increased changes of bigger problems to occur like mold growth. And the wet season in Big Rapids doesn't help but only to worsen the problem at hand. This is why 911 Restoration guarantees an arrival time of 45 minutes or less!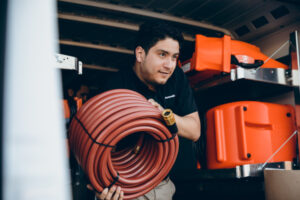 We know time doesn't wait when it comes to experiencing disasters and emergencies at your Big Rapids property. Especially when a sewage backup catastrophe happens where you live or work.
If you're trying to search for "sewage cleanup near me," we serve Big Rapids, Fremont, Muskegon, and all surrounding areas.
Regardless of the type of disaster – nothing stops us from delivering you the Fresh Start you're always capable of achieving.
Sewage Restoration and Water Damage Cleanup Services
When it comes to dealing with any kind of water damage – we advise you to get help from a professional. There are various types of waters dangerous in all forms – black water, toxic water, unsanitary water, to biohazard waters.
These types of waters not only pose potential health risks but also create bigger problems such as mold growth. And if you don't know how to handle and dispose of toxic water – you can be putting the environment at risk.
When you work with the team at 911 Restoration of Big Rapids/Fremont – you're working with certified experts. Our water damage fremont and sewage restoration technicians are certified and trained to tackle any disaster with the right protocols. Trying to solve your sewage cleanup or water damage problems on your own will only create a bigger mess.
Once you call for sewage cleanup emergency services – a friendly staff member will rush to the scene within 45 minutes. They will ensure all sources of the root cause of the problem will be put to cease.
Then a thorough inspection of property damages will be assessed. Alongside any potential vulnerabilities and damages will be noted. Our IICRC-certified experts know exactly what to look for so you don't have to worry if anything is missed.
They will go over the best practical solution for you to get your property brand new again.
And if you're wondering about insurance coverage – we'll take care of that for you. In fact – we will bill your insurance carrier on behalf of 911 Restoration of Big Rapids/Fremont. You won't ever have to wait long times on the phone again with your insurance company!
It is our duty to ensure the sewage restoration process goes hassle-free. It's a part of our Fresh Start guarantee!
Tackle Sewage Cleanup With A Fresh Start
What does it mean to have a Fresh Start when you work with 911 Restoration of Big Rapids/Fremont? Well – it's what sets us apart from other restoration companies in Big Rapids.
Our Fresh Start guarantee ensures your success in getting your property back to normal.
Arriving at the scene of your sewage disaster within 45 minutes of your call
Having your back 24/7/365 days a year for whatever reason you need us
Timely, fast, and reliable service to get your property back to new ASAP
Working with the best in class with our staff being certified professionals
Going above and beyond in every way possible for you and your property
We empathize with you when it comes to disasters and emergencies on your property. But if it's one thing we promise is our Fresh Start guarantee to put you back on track.
You'll have peace of mind knowing your Big Rapids property is back to normal and safe as soon as possible.
While dealing with sewage cleanup can be overwhelming – it won't be anymore the moment you give grand rapids mold removal a call.
You're only one call away to rebuilding your life and property again with a Fresh Start!
Serving the communities of Howard City, Newaygo, Fremont, Big Rapids  and surrounding areas.