What to Expect During Fire Damage Restoration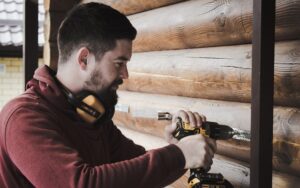 Saving your life is the priority, but we understand how emotionally draining fire damage can be. Fire damage is understandably soul-crushing because it often destroys years of memories and moments when the fire spreads. Your only way forward is getting home restoration and repair to preserve what you can.
Getting home restoration services after fire damage will help you know the extent of the damage. You can then figure out what can be salvaged and determine your next steps. However, you need to be prepared for the process before you sign up for it.
What Fire Damage Entails
To understand what fire damage restoration will look like, you need to know the kinds of damage it will be managing.
1.    Soot Filled Rooms
Soot is a carbon byproduct and is common in places with fire damage. While it may look harmless, although annoying, soot is acidic and actively deteriorates the objects it falls on after fire damage.
2.    Structural Damage
Fires burn through construction materials used to build your house and weaken the foundations. Although you can't always see the weaknesses, they exist and need restoration to prevent your house from collapsing.
3.    The Smell of Burnt Materials
The burnt smell of paper, plastic, wood, and other material often permeates the air where the fire happened. It's an uncomfortable odor and one you need to get rid of soon enough to feel relaxed in the house.
4.    Rust and Mold
Putting out a file involves spraying the affected area with a copious amount of water. The excess water can cause metallic surfaces to start rusting and, without adequate controls, the moisture will lead to mold formation, which is never a good thing.
What to Expect during Fire Damage Restoration
Now that you know the damage that likely requires repairs, let's explore what you should expect during fire damage restoration.
1.    Detailed Assessments of Damage
First, prepare for damage assessment. Home restoration and repair contractors will first send a team to assess the damage. You can also hire an independent inspector to ensure they don't miss out on anything.
2.    Longer Repair Durations
Not all fire damages are the same. Restoration service providers can repair minor fire damage cases within a few days, but more extensive damage will need several lengthy repairs. You might have structural damage threatening your home's foundations. Professionals cannot repair such damages quickly.
Consider getting a temporary residence until the repair and restoration is complete.
3.    Water Damage Restoration
Yes, you read correctly. When fire eats through your structure, it can damage your water lines, causing water to overflow in the affected area.  Besides fire damage restoration, you will also need water damage restoration.
4.    Irreparable Damage to Items or Home
One of the most difficult things you need to prepare for is irreparable damage. You will likely discover several items in unsalvageable condition. Similarly, some rooms may also be too damaged for repairs. You will probably need to spend some extra money to set it up anew.
The silver lining in this process is that you can choose to work with a more fire-resistant structure this time to make your house sturdier.
Tips on Managing Fire Damage Restoration
Aside from knowing what to expect from fire damage restoration, the following are some tips you need to keep in mind in case of fire damage.
1.    Contact Home Restoration Services near You
You will not be able to restore the damage yourself fully, so it is always better to call the home restoration service providers without delay. If you live in Big Rapids or Fremont, you can contact the 911 Restoration team to start fire damage restoration and repair.
2.    Get in Touch with Your Insurance Provider
Home restoration services after fire damage can be expensive, but luckily, most home insurances cover it. However, you need to get in touch with your insurance provider immediately and let them know. They will likely work with an inspector to assess the damage and let you know how much of the cost they will cover.
3.    Don't Choose the Cheapest Solution
Please refrain from choosing the cheapest possible solution. Without necessary restoration and repair, living in a fire-damaged house is incredibly risky.
You might end up spending more than you would ideally want, but getting quality repairs will keep you and your family safe; that's the most important part.
Wrap Up
We hope you found this article informative and have a better idea of what you need to do in the aftermath of fire damage to your home. If you are currently looking for home restoration and repair services in Big Rapids or Fremont, please contact 911 Restoration.
911 Restoration Services
The 911 Restoration team is an experienced group of professionals. They will carefully evaluate the damage and give a detailed proposal for the necessary repairs and restorations for your home. We understand that this is an emotional process and will always try our best to preserve items to the fullest extent.
Our teams are also proficient in providing restoration services for molding and water damage and managing commercial property. You can rely on us for most of your repair and restoration.