The Insurance Claims Process for Smoke Damage – How 911 Restoration Can Help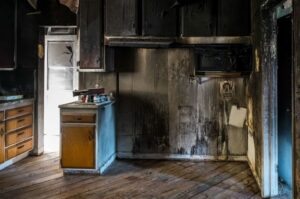 Even minor residential fires can cause panic in households and force owners to immediately evacuate and call the fire department. This is undoubtedly the most innovative approach, as safety should be your top priority. However, once the fire is out, you need to ensure that you quickly assess the fire damage (preferably by hiring professionals) so you can call your insurance company to file a claim.
As you probably know, fire leaves behind residual smoke visible during and after the event. However, most people don't realize that smoke and soot are acidic, meaning they can latch onto different surfaces and become difficult to clean and deodorize over time.
In this post, we'll discuss smoke damage and detail, explain the insurance claims process, and share how 911 Restoration of Big Rapids/Fremont can help you.
Understanding Smoke Damage
Smoke damage refers to the different types of physical stains, odors, or corrosions caused by the combustion of different materials during a fire, such as wood, plastic, rubber, drywall, fabrics, and metals. These materials are commonly found in households and can produce different corrosive residues that spread throughout the property.  Smoke and soot can cause serious damage to your property and belongings as they can easily migrate to every room through windows, doors, and other openings via convection. Moreover, it often requires professional intervention during the cleaning process as restoration experts possess the proper cleaning chemicals and equipment to remove the stains and odors from your belongs, including:
Clothing and curtains
Carpet
Furniture
Drywall
Window treatments
Metal surfaces
PVC and plastic
Porcelain items
Ceilings
Artwork
Jewelry
Books
Photographs
Documents, etc.
Filing a Smoke Damage Claim
If your property in Big Rapids/Fremont is insured, then you can file a claim to seek compensation for the damages incurred on your property due to a fire. However, you need to act quickly as the smoke damage can quickly become permanent and hire restoration experts to assess the damage and carry out essential repairs to contain and prevent any escalation. Once the team arrives on your property, they will gather the required evidence to support your claim and commence the dry-out and cleanup process. Once they have compiled a report, you need to call your insurance agent and notify them of the incident and let them guide you towards a fair settlement. However, you should look over your policy to ensure you're aware of your coverage, deadlines for filing claims, and any deductibles during the process. It is also advised to document the damage for yourself without disturbing the scene initially and include all your valuable items so you can seek maximum compensation when you submit the paperwork.
How 911 Restoration Can Help
Traditionally, calling the insurance company has been the go-to strategy for homeowners after a fire. Unfortunately, insurance companies can and do take advantage of people who don't know how to file claim processes and assess the damage. This is where 911 Restoration of Big Rapids/Fremont comes in to help you with the process in three ways:
1.    Thoroughly Assess the Smoke Damage
Fire affects properties and materials in different ways, leading to smoke damage, such as dry smoke from burning furniture, protein residue from kitchen fires, and wet smoke from burning plastic or wires. Our experts can identify the smoke damage type and its remediation cost.
2.    Document Everything
Using sophisticated tools and equipment, our experts collect everything insurance companies typically ask for in our comprehensive report, including:
The date of the fire
Site of the damage (bathroom, bedroom, roof, etc.)
Types of damage (fire, water, smoke, or a combination, etc.)
Evidence (picture, video, readings, etc.)
Copies of estimation cost and repairs receipts
Temporary accommodation costs (hotel, motel, etc.)
A full inventory of damaged items
Contact information and a copy of the police/fire department report
3.    Negotiate with the Insurance Adjuster
Adjusters serve insurance companies, not homeowners. Therefore, they'll do everything in their power to minimize the compensation amount and look for ways to reject your claim. After working with adjustors for decades, we know how to negotiate with them and provide them with all the information they require about the damage and repair costs.
Renowned Home Restoration Services – 911 Restoration of Big Rapids/Fremont
If your property sustains smoke damage caused by a residential fire, the first thing you should do is evacuate the building and call 911 to put it out. Once the danger is over, you should call 911 Restoration of Big Rapids/Fremont to thoroughly assess the damage for insurance claims and repairs. Our team of highly trained structural engineers and restoration experts will gather all the evidence required to get you the compensation you deserve and seamlessly handle smoke damage cleanup, saving any salvageable item in the process.
Feel free to call us for more information regarding our fire and smoke damage repair services.