911 Restoration & Business Continuation—How Our Restoration Services Help You Recover (Head Office)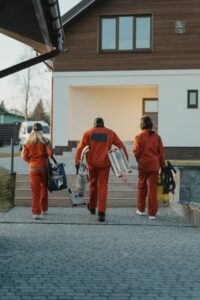 Natural disasters and emergencies can wreak havoc. Like homes, commercial properties can get badly damaged due to floods, earthquakes, pipe bursts, and tornadoes, to name a few. In such a situation, business owners can't wait for weeks or months to recover and restore their property and resume their operation. This could otherwise do a great deal of damage to the business, such as:
Cost millions of dollars of business
Negatively impact the market reputation
Make a bad impression on customers and partners
Lower customer base as they seek the same services from the competitor who may have resumed operations fast
The best way to avoid losing business and customers is to work with an experienced commercial property restoration company. This is where we come into the picture. At 911 Restoration of Big Rapids/Fremont, we take pride in being the first and top choice of business owners for commercial property restoration after fire or water damage. Here's how our restoration services can help ensure business continuation:
Available On-Call and Less Than 45 Minutes
A commercial property restoration experts, we know how crucial it is to resume quick operations after a disaster strikes. Long hours of downtime are never an option or feasible, especially in today's highly competitive business landscape. That is precisely why we are available on-call. Our experienced and IICRC certified professionals are on standby. This means that we'll be at your service as soon as you call us.
Our team is available 24 hours a day, seven days a week, and 365 days a year because we know that emergencies can occur unexpectedly. Therefore, simply call us, and our experts will arrive at your commercial premises within or less than 45 minutes. With us, you don't have to wait for weeks. We start the restoration work after a thorough inspection and right away, ensuring that all damages and repair work is addressed and completed in the fastest time.
We Are Trained and Equipped
911 Restoration of Big Rapids/Fremont has a team of well-trained, seasoned, and certified staff. Plus, when we step on your property for restoration work, we ensure that we have all the tools, technologies, and equipment needed to complete the work successfully. Unlike our contemporaries, we ensure that we are well-equipped with the right equipment to speed up the work and avoid delays.
You Can Count on Us for All Your Restoration Work.
After a disaster, the last thing you want to know is that the company you have hired for restoration work offers limited services. With us, you don't have to worry about it. We offer a full suite of commercial property restoration services, including but not limited to:
Water damage and sewage cleanup
Fire and smoke removal
Sanitization and Disinfection
Mold remediation
Disaster and commercial property restoration, etc
So, no matter what type of disaster may damage your property, you can rely on our expertise and services. We can handle all types of restoration work to your complete satisfaction.
Complete Inspection and Reporting
Before we start with restoration work, we carry out a thorough and careful inspection of the damages to your property. This gives us a clear understanding of the damages your property has incurred, and accordingly, we strategically approach all problems so that the restoration work is completed promptly without delays.
As we inspect the property, all the cost and repair work is recorded by our experts. This helps our clients with insurance claim filing for commercial property restoration work and increases their chances of getting the compensation they are entitled to.
End-to-End Solutions
Our experts offer end-to-end solutions. For example, if your commercial property is damaged due to flooding or pipe burst, then our restoration experts will assist you at every stage of the cleanup process. We start with water removal, which may be standing in and around your property and can cause severe damage if not removed right away. Standing water can lead to structural damage, mold and bacterial growth, damage to the furniture, etc.
Therefore, our first response in such a situation is to remove and extract water from every nook and corner of the property. After water removal, we use different techniques and equipment to dry valuable items and simultaneously remove moisture from the property. Our experts also take effective measures for mold remediation to ensure good indoor air quality so that your staff can resume work in a healthy environment.
At 911 Restoration of Big Rapids/Fremont, we go above and beyond to serve you. We can also help you create business continuation plans to avoid disasters and take necessary steps in an emergency. Our goal is to help you resume quick operations through speedy and reliable restoration work. We make sure our customers don't have to wait for weeks until they can reopen their business. We'll do what we can to help you get back to work and take a fresh start.